How to Scale Your Social Media Program with the Right Tools, Tech + Processes
Earlier this year, I had the opportunity to give a presentation at Social Media Marketing World 2018. I had a great time speaking on a topic that's very near and dear to me, as I've spent almost a decade working with enterprise companies to help them figure out how to successfully scale their social media programs.
Before we get into the meat of the content (which we will – I promise), let's first set the stage about why this matters. Because it does – even more than you may realize.
As marketers, we talk about social media success in terms of conversions, share of voice, engagement, etc. That's marketing as a function. But what really matters to your customers? Their experience. And they expect it to be stellar. Straightforward in theory, but in practice, brands are still missing the mark.
80% of CEOs believe they're delivering a superior customer experience. But only 10% of their customers agree.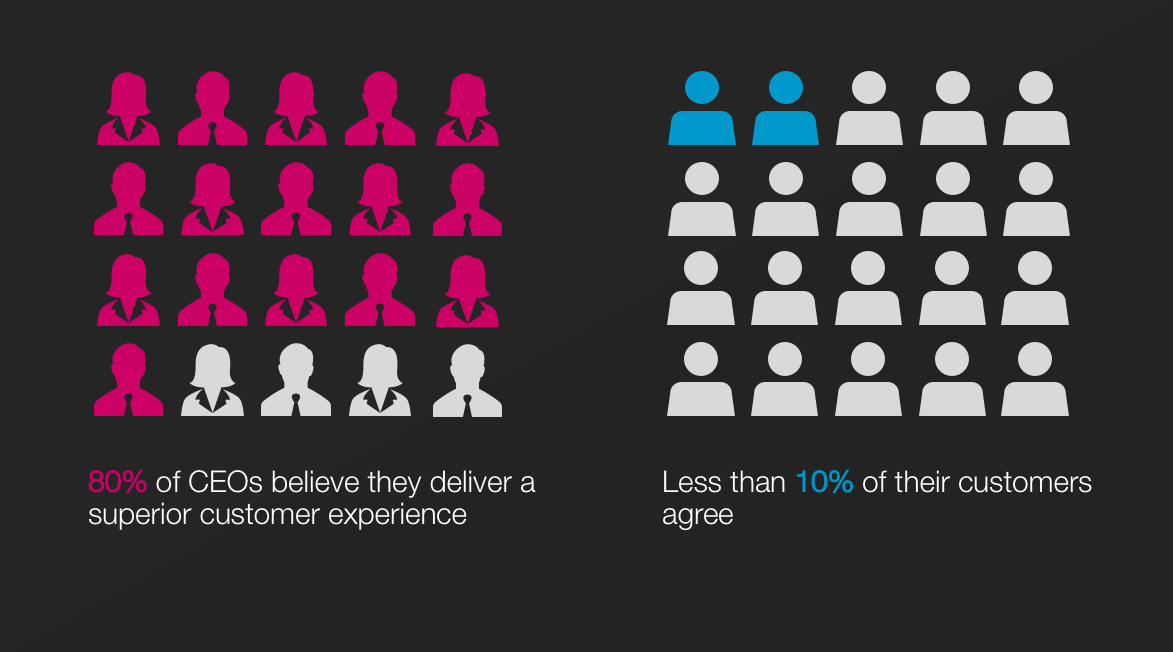 Why? It's not because businesses don't care about their customers; it's because they don't have the right processes and technology in place to consistently deliver the experience their customers want and expect.
The good news is that marketers can be the heroes of today's customer experience. We have the opportunity to help our businesses realign with what's most important – the customer.
Over the next 3-5 years, 75% of marketers say they will be responsible for the end-to-end experience over a customer's lifetime.
Here are a few key takeaways from my session, as well as some insight into a few helpful tools that you can use today to turn these takeaways into action for your enterprise company.
Scaling is an inside job.
Your ability to effectively grow your program – alongside your business – is dependent on your ability to "get your house in order." That means you need to have a plan to scale your program. Remember, there are good guys and bad guys of scale. Get to know them!
The good guys:
Stakeholders
Processes
Workflow
Technology
Data
Each of these are essential, but success only comes when they all align and work together.
The bad guys:
Disjointed data
Siloed Teams
Disparate Processes
Point Solution Tools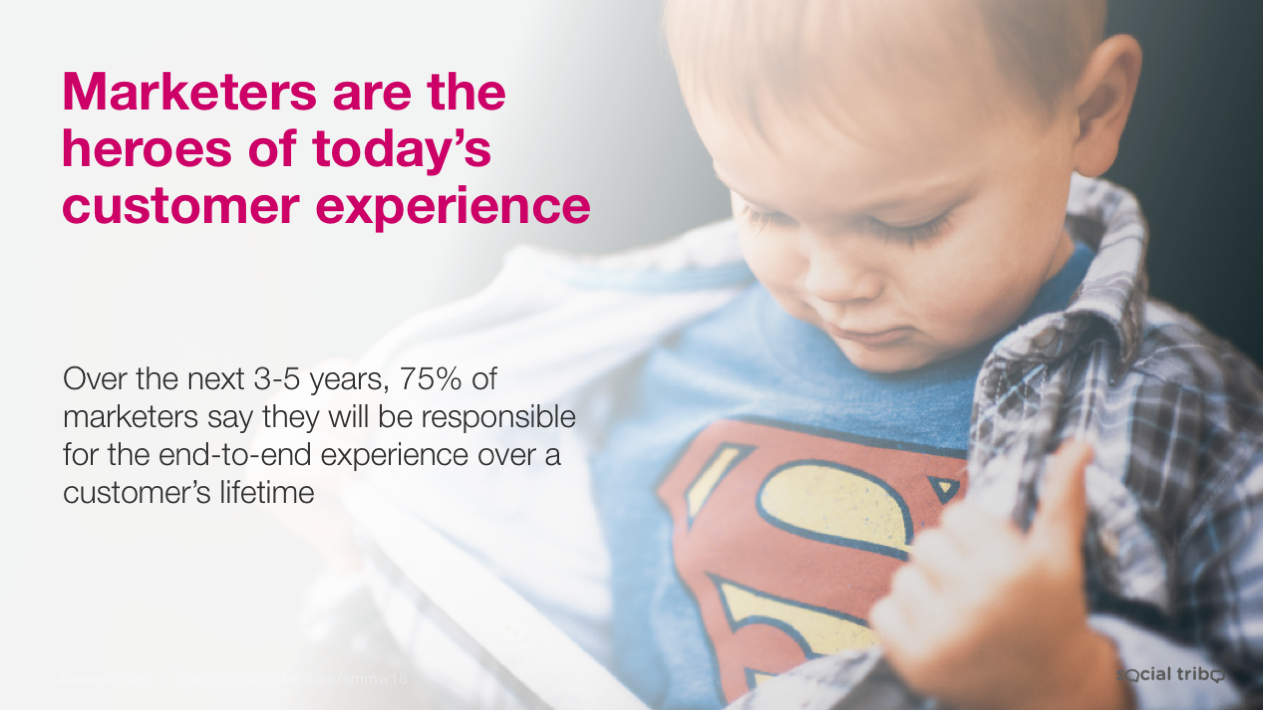 There are barriers that get in the way of scale – especially for companies with large, complex marketing ecosystems. These guys will inhibit your scalability if you can't overcome them.
The Customer Is Always First
Before you can scale your program, you need a customer-first strategy. Here are three key areas to focus on:
Know your audience. If you don't have a good handle on your who your customers are, there's no way you can deliver an exceptional customer experience on social or anywhere else.
Use the right tools. While there isn't a one-size-fits all platform that will give you everything you need, there are plenty of tools available to help you discover where your customers are hanging out online.
Obsess over your customers. Once you put in the time and effort to identify your customers, go the extra mile to really tap into them – what are their hobbies? Their buying habits? Where do they like to shop or get coffee? Knowing your customer persona will put you in the prime position to be where they are — offering valuable tips, solutions and information that creates an unparalleled customer experience.
Collaboration and Process are the keys to success
Now that you know who you're targeting as the foundation of the social strategy you've built, you need to take those learnings in-house and figure out how to execute them. Collaboration is essential to scale, period! There's no way you can grow your program without buy-in and participation from other stakeholders in your business. But often, especially in enterprise businesses, that's easier said than done.
Don't go it alone — start with aligning your immediate team of collaborators and work your way up to regional and global stakeholders.
Build a collaboration hub – this will ensure everyone has access to the same information and is on the same page, no matter where they are. Make sure this is transparent (visible), accessible (cloud-hosted), and self-service (permissions-based).
Develop a scalable, repeatable process – tools are key to collaboration and scalability, but don't forget that we're all humans! Organizing and leading regular meetings to drive alignment (and report back on results) are key to making sure your stakeholders are on the same page and see the value of their participation. Use the collaboration technology and processes to keep the engine running in between your meetings and to keep the execution pieces flowing together.
Turn insights into action
Want to take these learnings and put them into action? Get a jump start on scaling your program with our custom designed editorial management system template. It's a simple template, powered by Smartsheet, that we use at Social Tribe to manage our clients' editorial and social media content in one central location. It allows you to assign owners to your content, add in social copy and links, and keep track of the status of your content promotion.
What more tools? Take our tailored online assessment to find out which social, content + influencer tools are right for your program.
Visit www.social-tribe.com/smmw18 anytime to get all 3 of these goodies!